August 3 - 25th, 2012; opening reception First Friday, August 3rd, 6-9 pm; special events Friday August 17th, and Saturday, August 25th.
Krowswork is very pleased to present its 2nd Annual

Summer of Video Art

. This year's version includes work by Anne McGuire & Karla Milosovich, Liz Walsh, Torsten Zenas Burns, Christine Ancalmo, Sofia Cordova, Dickson Schneider,Will Erokan, Evie Leder, Julia Litman-Cleper, and Paul Clipson. The gallery part of the exhibition will be on view throughout the month of August.
SOVA will also feature two special screenings, including work by Dale Hoyt,Michael Deane, Julia Vering, Claire Evans, Ronnie Bass, Marco Brambilla, and others. These screenings will take place on August 17th and August 25th.
McGuire and Milosovich

present

"Classic Rock,"

a video/sound installation centering on their shared appreciation of this music genre.
Liz Walsh

will live video mix in the gallery
Torsten Zenas Burns

will debut his 2012 video

"Familiars"

which re-imagines the Skinners Massachusetts Wistariahurst family house and grounds as a fictional residency program for Holyoke populated speculative entities.
Christine Ancalmo

's darkly energetic video

"Witch Doctor"

which comments and integrates with pop culture and music, design, and potent energy currents will be on view.
Sofia Cordova

presents a new three-channel work,

Auxillo Socorro

, subtle meditations on land and presence, using sound and silence to great advantage.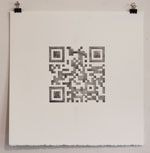 Dickson Schneider

presents

"Placeholders,"

hand-drawn QR codes which lead viewers to hand-drawn animations via their cell phones.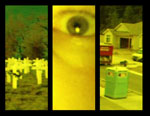 Will Erokan

presents

"GiftHorse 5,"

a three-channel work which documents the period from 2005-2006, combining personal moments from the artist's life, whether exciting or mundane, with those of global significance.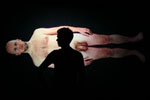 Evie Leder

's

"Object No. 1,"

a disarming meditation on a floating body will be on view.
Julia Litman-Cleper

presents

"Videor glands,"

a video sculpture arranged anthropomorphically which also responds to passers-by.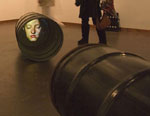 Paul Clipson

presents

"She Knows,"

a video sculpture/sound work in which videos seem to respond to each other through the chambers of twin barrels.
On

Friday, August 17th

Krowswork will feature the work of Dale Hoyt, Michael Deane, and Julia Vering. We are pleased to screen Hoyt's important 1985 work,The Complete Anne Frank (36 minutes), which is part of the collection of The Museum of Modern Art and is currently on view there. Along with Hoyt's work the program will feature Greed by Michael Deane, a sardonic look at a Western taken from behind the scenes, and Julia Vering's You Live Here Too, a performance documentation featuring video, animation, and live action. Elderly women dressed in red wigs describe their fictional store, in which they record the comings and goings of customers--recording xrays, dreams, and more. Unlike anything you've seen! This program is not to be missed.
On

Saturday, August 25th

, the gallery will host a closing event featuring Close to Cosmic, a video program curated by

Chris Hughes

, director of the important site Video Art Collector. The program will include videos by Claire Evans, Ronnie Bass, Kim Collmer, Marco Brambilla, Ohad Meromi, and others.
This program will be followed by a live video performance by John Davis.